The Wycheproof Historical Society was Established in 1982 to promote and preserve the history of Wycheproof and District.
The Courthouse Museum is a repository for photographs, documents, maps, books, periodicals and newspapers on microfilm to 1940.
Volunteers work to preserve and digitalise documents and photographs and support families researching their family history.
Research facilities available by appointment.
Wycheproof Historical Society is an Approved Place of Deposit. See
Victorian Collections
website.
To see Wycheproof history in photographs see Wycheproof Historical
archive
.
More photos available on the Wycheproof History
flickr
site .
Wycheproof Community Museum

Wycheproof Community museum is on Mount Street, Wycheproof. Located in the historic Wycheproof School built in 1875, the museum has a significant collection of items and artifacts that tell the story of the community at work and at war. Significant in the collection is the Autograph Flag.
​
The Autograph flag that commemorates WWI volunteers was created by the local Patriotic Guild, a group of women who raised money to send parcels of clothing and food to soldiers on the front in Europe during WWI.
The embroidered silk flag has a red background with cream embroidered lettering. On one side is listed the names of all the soldiers who enlisted from the Wycheproof district and on the other side, the names of the volunteer women and those who had donated to the Patriotic Guild fund during war period.
The flag is colourful and shows our links to Britain.
The Autograph flag was originally presented to the Shire of Wycheproof and was later stored away and virtually forgotten until rescued by local historian Mancel Giddings around 20 years ago.
Wycheproof Historical Society received an ANZAC Centenary grant from the Department of Veteran's Affairs to restore and conserve this beautiful flag, lovingly created by the women of Wycheproof. The flag was restored by a team at the University of Melbourne.
For more on the Autograph Flag see the
article
.

Willandra Museum features the collection of local legend and history buff Mancel (Mick) Giddings. The museum is located a the southern entrance of Wycheproof. It includes a collection of historic buildings including iconic single classroom schools and the slab and daub building the historic Ninyeunook post office. The Willandra collection includes ephemera and items from the district's cultural and farming past.
Visit the museum by appointment T: 03 5493 7227.
---
Railway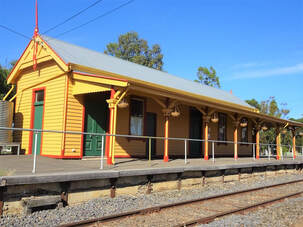 Since 1883 and the extension of the Kulwin railway line to Wycheproof, trains and the rhythm of the railway have been significant to the fabric of the town and community.
Wycheproof rail history is documented widely and the historic railway station built in 1887 is now cared for by the Friends of Railway Place group and managed by the Wycheproof Community Resource Centre. It is used for community functions and meetings.
The restoration of the train turntable at the Wycheproof station was celebrated in May 2021. It is of significance as one of only a handful of operational turntables in Victoria. See this
video
ABC TV coverage of the turntable restoration.